My Blog
Posts for tag: tooth decay
By CF Smiles Dental
October 22, 2018
More than likely your great-grandparents, grandparents and even your parents had a common dental experience: when one of their teeth developed a cavity, their dentist removed the decayed portion (and maybe a little more) through drilling and then filled the cavity. In other words, treatment was mainly reactive—fix the problem when it occurred, then fix it again if it reoccurred.
You may have had similar experiences—but the chances are good your dentist's approach is now quite different. Today's tooth decay treatment is much more proactive: address first the issues that cause tooth decay, and if it does occur treat it with an eye on preventing it in the future.
This approach depends on maintaining equilibrium between two sets of competing factors that influence how your teeth may encounter tooth decay. This is known as the caries balance (caries being another name for tooth decay). On one side are factors that increase the risk of decay, known by the acronym BAD: Bad Bacteria that produce acid that dissolves the minerals in tooth enamel; Absence of Saliva, the body's natural acid neutralizer; and Dietary Habits, especially foods with added sugars that feed bacteria, and acid that further weakens enamel.
There are also factors that decrease the risk of tooth decay, known by the acronym SAFE: Saliva and Sealants, which focuses on methods to boost low salivary flow and cover chewing surfaces prone to decay with sealant materials; Antimicrobials, rinses or other substances that reduce bad bacteria populations and encourage the growth of beneficial strains; Fluoride, increased intake or topical applications of this known enamel-strengthening chemical; and Effective Diet, reducing the amount and frequency of sugary or acidic foods and replacing them with more dental-friendly choices.
In effect, we employ a variety of techniques and materials that inhibit BAD factors and support SAFE ones. The foundation for prevention, though, remains the same as it was for past family generations—practice effective oral hygiene by brushing and flossing daily and regular dental cleanings and checkups to keep bacterial plaque from accumulating and growing. Your own diligent daily care rounds out this more effective way that could change your family history of tooth decay for you and future generations.
If you would like more information on preventing and treating tooth decay, please contact us or schedule an appointment for a consultation.
By CF Smiles Dental
July 24, 2018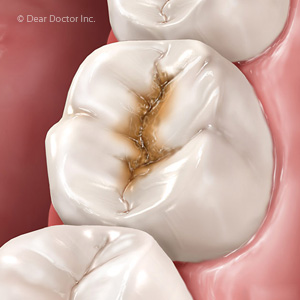 Although preventable, the occurrences of tooth decay are all too common. Yet decay doesn't appear out of the blue: certain mouth conditions set the disease in motion.
Here are a few signs of such conditions to watch for — they could be telling you you're at higher risk for tooth decay.
Visible plaque. Plaque is a thin film of bacteria and food accumulating on tooth surfaces and a prime haven for causing periodontal disease. If you actually see it — a crusty, yellowish film — that means there's a large, unhealthy amount of it. It's essential to remove it daily through diligent brushing and flossing and more thorough office cleanings at least twice a year.
Poor saliva flow. One of this bodily fluid's functions is to neutralize mouth acid, usually thirty minutes to an hour after we eat. If saliva flow is inadequate, though, acid levels may remain high and endanger the enamel. "Dry mouth" can occur from a number of causes, including some medications and chemotherapy treatments. It's important to alleviate the cause if possible by changing medications or stimulating saliva flow through other means.
Tooth shape and appliances. Largely determined by heredity, your teeth contain unique, tiny grooves known as pits and fissures that could harbor plaque. Certain appliances like retainers, braces or night guards can inhibit saliva flow and cause your teeth to retain more plaque. It's important then to adjust your hygiene efforts to offset these anatomical or treatment factors.
Acid-producing conditions. Diseases like gastro-esophageal reflux disease (GERD) or eating disorders can introduce stomach acid into the mouth that is highly erosive to tooth enamel. It's imperative for you or a family member to control these conditions through medication, dietary changes, or — in the case of eating disorders — behavioral therapy.
Eating habits. Sugar and other carbohydrates are a ready food source for bacteria. Likewise, acidic foods and beverages (like coffee, tea, and sports or energy drinks) can cause high acid levels for too long. Cut back on eating and drinking these foods and beverages, especially as snacks, to reduce acid levels that could lead to decay.
If you would like more information on strategies to prevent tooth decay, please contact us or schedule an appointment for a consultation. You can also learn more about this topic by reading the Dear Doctor magazine article "Tooth Decay: How to Assess Your Risk."
By CF Smiles Dental
May 05, 2018
When your baby's first teeth come in, you might not think it necessary yet to worry about tooth decay. But even infants can develop this common dental disease. In fact, it has a specific name in children 6 and under: early childhood caries (ECC).
About one-fourth of U.S. children have ECC, and poor or minority children are at highest risk. Because of primary ("baby") teeth's thin enamel layer, ECC can spread to healthier teeth with unnerving speed, causing extensive damage.
While such damage immediately affects a child's nutrition, speech development and self-esteem, it could also impact their future oral health. Permanent teeth often erupt out of position because of missing primary teeth lost prematurely, creating a poor bite. And children with ECC are more likely to have cavities in their future permanent teeth.
While there are a number of effective treatments for repairing ECC-caused damage, it's best to try to prevent it before damage occurs. A large part of prevention depends on you. You should, for example, begin oral hygiene even before teeth come in by wiping their gums with a clean, damp cloth after feeding. After teeth appear, switch to daily brushing with just a smear of toothpaste.
Because refined sugar is a primary food source for decay-causing bacteria, you should limit it in their diet. In the same vein, avoid sleep-time bottles with fluids like juices, milk or formula. As they grow older, make sure snacks are also low in sugar.
You should also avoid spreading your own oral bacteria to your baby. In this regard, don't put their eating utensils or pacifier in your mouth and don't drink from the same cup. Avoid kissing your baby on the lips. And above all, take care of your own oral health to prevent your own encounter with dental disease.
Finally, start regular dental visits on or before your baby's first birthday. Regular cleanings and checkups increase the chances for early decay detection, as well as provide for treatments and prevention measures that can reduce the disease's spread and destruction.
ECC can be devastating to both your baby's current and future dental health. But with vigilance and good dental practices, you may be able to help them avoid this serious disease.
If you would like more information on tooth decay prevention in young children, please contact us or schedule an appointment for a consultation.